Buenos Aires, November 10, 2015 – Argentine Medicines Regulatory Agency, ANMAT (Administración Nacional de Medicamentos, Alimentos y Tecnología Médica) approved last week commercialization of a relevant medicine to treat Hepatitis C.
"This measure was highly expected since it is the first step to ensure availability of this essential medicine in our country. I live with Hepatitis C and i have tried unsuccessfully with different treatments. This news is very important because sofosbuvir, in combination with other drugs, means the cure for 700,000 people in Argentina who, like me, need urgently to access effective treatment" stated Pablo García, General Coordinator of Redar Positiva.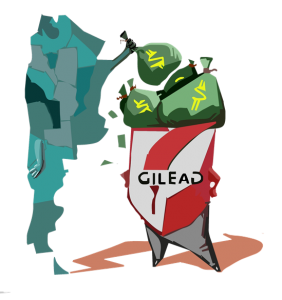 As we have been highlighting from FGEP, its crucial that approval of sofosbuvir is combined with policies that guarantee universal access to HepC treatment. In May, FGEP has filed an opposition to the patent application on sofosbuvir that the company Gilead Sciences is seeking in Argentina in order to exclusively manufacture and sell the drug in the country. The opposition filed by FGEP, aims to the rejection of the patent application while warning Patent Office (Ministry of Industry) authorities about the non-compliance of the legal requirements according to national patent law. Gilead is claiming old science and obvious procedures that, according to the national legislation, cannot be patented.
These actions aim to prevent Gilead from abusing of the patent system and of setting extremely high and arbitrary prices at expense of people lives and Argentine Health Sovereignty. Gilead has offered sofosbuvir´s treatment to Ministry of Health in Argentina at aprox US$ 11,000 the treatment for 1 person,  while a research conducted by University of Liverpool showed that cost of production of this medicine can be only US$ 101.
A local pharmaceutical company Richmond Laboratorios announced they are close to launch a generic version of sofosbuvir produced in Argentina
A week after ANMAT approval Richmond announced that they will put on the argentine market a generic version of sofosbuvir  (Pobirase) that is already being manufactured at its industrial facilities in Pilar, Buenos Aires Province. However, the price of this generic version remains unknown.
FGEP, feel hopeful about the progress achieved in regards to access to sofosbuvir and we expect that the entry into market of generic versions generate a significant reduction on prices since exhorbitant prices are preventing thousands of people to cure from HepC.
Medicines are not goods but social assets to guarantee health to people who need it.